Club Captain - Barry Holmyard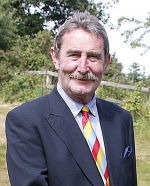 I am happy to be representing you all for the coming year and to be an ambassador for our great golf club.
Our club goes from strength to strength and I am looking forward to working with Bobby Darley Ladies Captain, Bob Baker Senior Captain and Alex Poutney Junior Captain.
Good luck to all our teams in their forthcoming season in scratch, handicap and friendly matches across the County and beyond.
My chosen charity for the year is Asthma UK and your generosity will be much appreciated.